'Products' feature now available to all for testing
Updates
As we mentioned a few months back, if you are an organisation such as a local or family history society or group, and you are struggling to make these available online to maximise their reach, you can now sell these items through Our Town Story, providing you with a potential new income stream.
It could be books or postcards, local research, CD-ROMs of transcriptions or even tea towels! You choose the title, description, how many items of stock to make available, pricing and postage costs. If someone makes a purchase, we take the payment securely using Stripe, and you receive an automatic email to tell you who has bought what and where it needs to be sent. 
Once a month, we will distribute any funds you are owed straight to your bank account. Yes, we take a small fee (currently 10%) of the item cost to cover our costs. However, as a not-for-profit setup, any surpluses go back into the running of the site. 
The folk at @HRGS have been trying this out for us, so you can see what product listings looks like there, but here's a picture: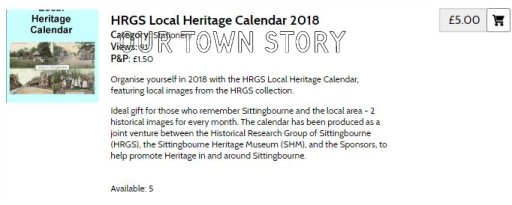 In order to sell with us, you need to have created an account with Our Town Story, and chosen the 'organisation' account option. You must provide a working, monitored email address - your customers will be expecting the delivery time that you mention and they are paying for! 
We really hope that this will open up the online market for your goods, and increase your revenues to allow you to do more. If you have any questions, just reply below, and we will do our best to answer them!