Profile Stats:
Members do not see ads

2015-04-20
By: admin
Posted in: OTS Announcements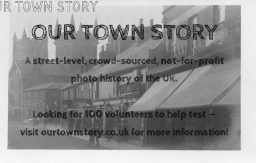 Welcome to Our Town Story!

There are thousands of images of the towns, villages and cities of the UK that will never see the light of day in the nation's history books. Photos of carnivals, May Day parades, high streets, factories, sports teams and more.
They could be lurking in your loft, garage, workplace or photo albums, and together they recount the social history of the United Kingdom and Northern Ireland.
Our Town Story is a place for those images and their stories to see the light of day, for people to add their own reminscences and recollections, and fill in the gaps in our collective memory.
Join now to share your pictures and tell your stories - or just to look back to the way things were - with a forum and a gallery for over 43,000 locations in the UK, you're bound to find your places, and those of your parents, grandparents and more!
Annual membership will be just £19.99 - a quarter that of Ancestry's - and as a not-for-profit community interest company, Our Town Story will help to use these images for everybody's benefit, including the development of systems to assist in reminiscence therapy for those coping with dementia-related illnesses such as Alzheimer's.
WE ARE LOOKING FOR 100 VOLUNTEERS TO HELP US TEST OUR TOWN STORY!
The first 100 users to register will receive free lifetime membership in return for helping us to test our systems and layouts and contributing bug reports, etc. You will need to have relevant images that you have the right to post (ie they're yours!).
To qualify, please use the 'Create Account' link in the top right hand corner. Entry is operated on a strictly first come, first served basis.
There are currently 50+ opportunities remaining!
NOTE: THE LOGIN WALL IS CURRENTLY DROPPED TO ALLOW BROWSING AND WILL REMAIN DOWN UNTIL WE HAVE OUR 100 VOLUNTEERS....